"It is my belief that Traditional American Folk Music should be presented to people in a way that creates an interest in it and thus continues its preservation. It should also be considered by the participants as an alternative musical path, one that is enjoyable, entertaining, historical, cultural, and most important, a folkway that fosters community. Participants will benefit wholeheartedly!" ~ Brian Vollmer, Instructor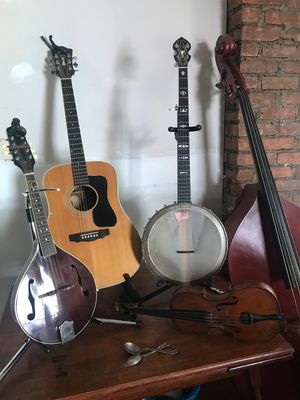 THE SENSORY PROGRAM:

The Instructor provides the musical instruments: Guitar, Banjo, Fiddle, Mandolin, Upright Bass, and Percussive Spoons, set-up for the audience's immediate view. When participants enter, traditional music plays in the background to set the mood. The presentation begins by introducing the instructor: he tells his story and why he has chosen to teach people about traditional American music. This is a fading art form preserved by new generations, inspired to find joy in the folk communities located near home and abroad. 

The core of the presentation moves on to a brief review of each instrument with a slideshow: its origin, history, and how it is constructed. The instructor will also give a demonstration of how each instrument produces a unique sound and how it is traditionally played. Participants will then find a hidden instrument that everybody possesses: their voice. The instructor will pass out lyrics to a traditional folk song to involve participants in a sing-along. The instructor will play an audio demonstration, and then they will learn the song together. The instructor will again play a recording of the song that features the musical instrument presented. Participants are welcome to sing along to this recording. 
Finally, participants will have the chance to choose instruments that they are drawn to, get it in their hands, and be instructed on how to produce some basic sounds. Participants will have a chance to explore each instrument given the time allotted. Participants must be patient and able to wait for their turn to try an instrument, supported by the staff as the instructor sees fit.
Help on finding an instrument and further instruction can be arranged with the presenter at a later date.